Match preview:
Sunderland travel to St James' Park looking for third win on Tyneside in as many seasons. Newcastle United meanwhile have had a week as dreadful as the last three derby games having conceded 8 goals in two games at North London clubs Arsenal and Tottenham. We do however sit 7 points ahead of 15th placed Sunderland in 8th as we look to increase that gap further to 10 points this weekend.
Sunderlands away form has been poor of late, the black cats have won only 1 of their last 6 games on the road. They have in fact only won 2 games, home or away, all season which is the joint lowest record in the league alongside Leicester and Hull. Newcastles home form on the other hand is very good, we're unbeaten in the last 6, winning the last 4. The form guide certainly points to a home win but we all know form can mean very little heading into a derby.
The magpies recent derby record is nothing short of horrific. We've not won in 5 meetings and the last win was the Ryan Taylor over the wall game. Gustavo Poyet is unbeaten in Tyne-Wear derbys while the Toon Army have only won 1 during Alan Pardew's dismal reign in charge at St James' Park and Pardew is yet to win one at home.
Not since 1901 have Newcastle United lost 3 home derbies in a row and with the game being so close to Christmas a third loss in a row would have catastrophic consequences on Tyneside with the festive spirit well and truly dampened. Pardew will know that he can't let such a thing happen without him becoming even more unwanted amongst the fan base.
This will be a big day for Jack Colback, who has scored in this fixture for Sunderland in the past. He has since though redeemed himself by refusing numerous new contract offers from the mackems and opting to get together with his boyhood love instead. Having made the step up to the regions elite football club he's continued to impress and has been rewarded with a call up to the England squad. Sunderland fans purchasing a match programme will find themselves spending £3 more for a photo of Jack Colback than we spent on Ginger Pirlo himself.
By monitoring the performances of both Newcastle United and Sunderland, Whoscored have compiled a list of strengths and weaknesses for both clubs and used it to predict that we will steal the ball from the mackems often. Which is an area Jack Colback is expected to make a big impact in. John O'shea meanwhile has stated he'll refuse to shake Colback's hand before the match because of the way he left Sunderland. Imagine how sad and pathetic your life must be to not shake someones hand because they transferred clubs.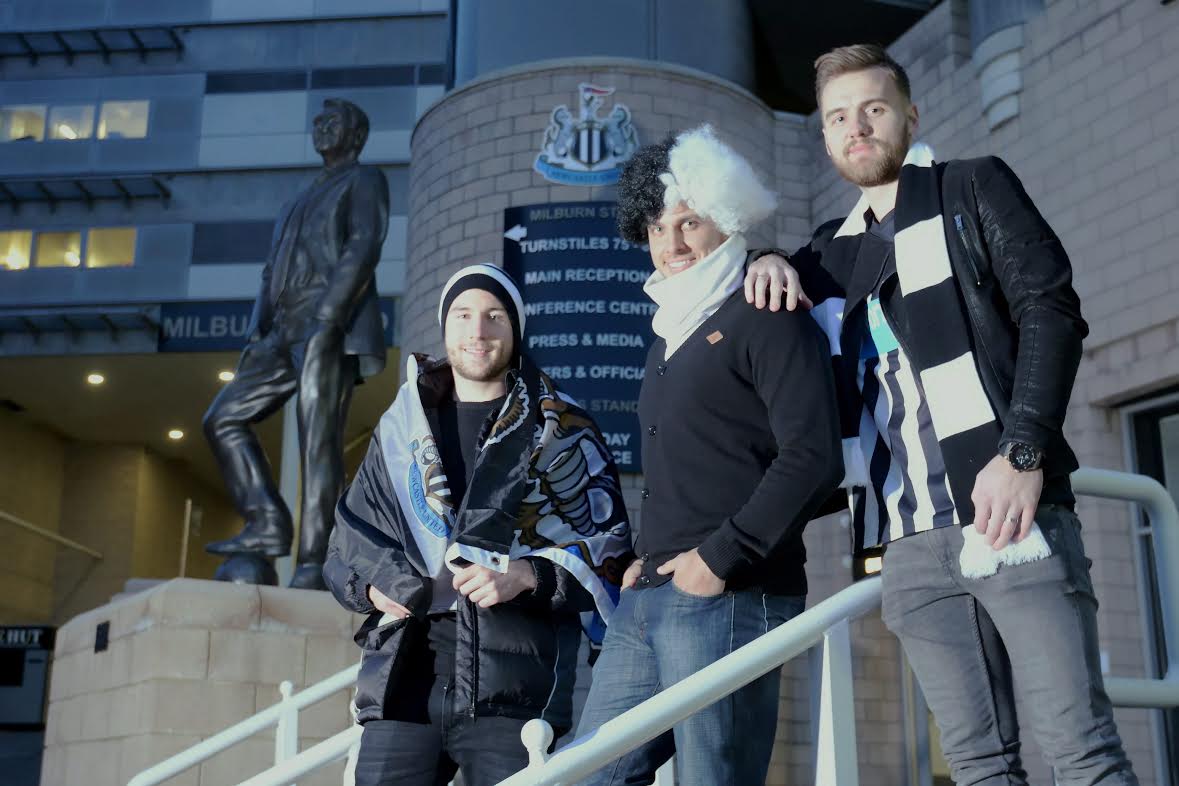 While Sunderlands controversial centre back John O'Shea has been making those ridiculous comments to the media, Newcastles controversial centre back Steven Taylor has taken a different approach to his preparations for the big game. Having presumably completed his stamp collection he's found the time to stroll around St James' Park donning a black and white afro. Sadly he's likely to be unable to wear it during the match.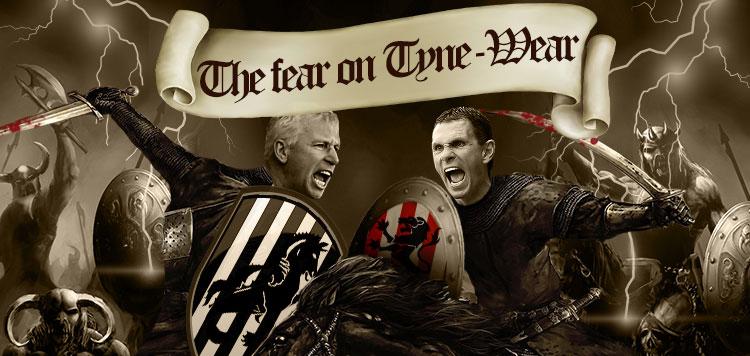 In a bid to rid the derby of the ridiculous violence the fixture has seen in recent years, fan groups of both clubs have been working with the football supporters federation to create a derby to be proud of campaign. The intention is to keep the pride and passion but get rid of the senseless fighting. Northumbria Police have tried to help this, in the worst way possible, by announcing plans for a naively optimistic policing approach. There will be no special trains and metros for away fans and there will be no police escorts of away fans meaning both sets of supporters will be allowed to mingle in the same Newcastle city centre pubs and bars before and after the match.
Team news:

Newcastle United:
First and second choice goalkeepers Tim Krul and Rob Elliot remain sidelined. Third choice goalkeeper Jak Alnwick is expected to have overcome a knock to his shoulder and a horrendous performance at Tottenham to start in goal. Jonas, Raylor, De Jong, Santon, Good, Obertan and Aarons will all miss out. Sissoko, Cisse, Abeid, Tiote and Sammy are all doubtful but its expected all will return bar Cisse who Pardew has said is struggling.
Sunderland:
Van Aanholt and Jones are expected to miss out through injury. Giaccherini is doubtful.
Line up and prediction:
Possible Newcastle Utd line up :
<alnwick>
<janmaat> <saylor> <colo>
<abeid> <colback>
<sissoko>
<cabella>
<ameobi>
Obviously Alnwick in goal is a massive weakness and ideally he'd be nowhere near the first team but we've no other choice so we all need to get behind him and pray that he miraculously becomes competent.
For me the defence picks itself. The return of Saylor and in particular Janmaat will be a massive boost. Some will argue Haidara over Dummett and although the Frenchmen is better attacking wise, we need to go for the best defender in a game like this, especially with Alnwick in goal. Dummett is superior defensively, especially positionally wise which will be vital in this encounter with the mackems primary attacking outlet being down the wings.
I'd go 4-3-3. The same 4-3-3 we used when we went unbeaten through November. The return of Abeid will be a massive bonus if he makes it back and of course Colback will be especially up for this one. The other member of my 3 man midfield would be Sissoko, as the driving force, hopefully he will continue his great form of late.
I'd go for a pacey and attacking front 3 of Cabella, Perez and Sammy. The Sunderland defenders, especially the CB's O'Shea and Brown, are quite slow and will struggle with the pace and trickery of that front three.
That team pretty much picks itself as far as I'm concerned and hopefully Pardew will be of a similar mindset. Although sadly I expect that he will find places for liabilities, Williamson, Tiote and Gouffran because they are his favourites. If those three start I think we'll get beaten comfortably. If none of them start I can see us winning.
Possible Sunderland line up :
Pantilimon
Vergini O'Shea Brown Reveillere
Johnson Gomez Clattermole Larsson
Wickham Fletcher
I expect Poyet to name the same side that drew with West Ham last week bar the reintroduction of Fletcher in place of Altidore, after the American striker once again disgraced himself with his comical footballing ability.
Prediction :
It's an incredibly tough one to predict. I don't think it'll be another 0-3, I expect it to be much tighter than that (unless Williamson, Tiote and Gouffran play then it probably will be 0-3). I think both managers would take a draw if it was offered to them right now but both fan bases will be expecting nothing less than a win. Pardew will be aware that a fourth derby defeat in a row, on top of having already conceded 8 this week, will kick off fresh large scale Pardew out protests and ruin the Christmas of an entire city. And because of that I expect us to set up to first and foremost not get beat, which is the same tactic as Sunderland have employed all season. I predict a 1-1 draw although I wouldn't be surprised to see either side nick it by a goal.
Referee:
Anthony Taylor:
The bald headed 36 year old mancunian will take charge of this fixture. Our only game involving him this season was the 2-1 win at White Hart Lane. His only Sunderland appointment this season was the 0-0 borefest with Burnley.
A word from the gaffers:
Alan Pardew:
"I'm hearing the right stuff on the radio and in the street about the levels of antagonism between the two clubs dying down a little bit to what it's really about – a football match. I'm really pleased about that and hope it carries through to Sunday.
"I said two years ago that this nasty hate – those kinds of words – needed to go out. It's a rivalry, a game of football – may the best team win, and then we shake hands and go home. The incident with the flight this year, and the way the Sunderland fans contributed and the effort they made, has made great steps to help this fixture become what it should be, a spectacle for the North East, not something where we have to order extra police.
"The last thing the North East should be doing is fighting each other, but, at the same time, knowing it's a massive rivalry, the passion of the game shouldn't be lost. We know that will be there and it's what it should be about. I'm sure Gus is of the same opinion as me.
"I've been lucky enough to play in cup finals, but if any manager asked me, 'What's the biggest game you've been involved in', I'd say Newcastle vs Sunderland. The electricity of this game really is something else, and you have to be at it to appreciate it. I'm looking forward to experiencing that again. The end, not so much if you lose. Particularly around Christmas time, when it's goodwill to all men, the gravy is going to be a bit lumpy if we lose. So it's important to win."
Gustavo Poyet:
"It's obvious that that position in particular is very special, the goalkeeper one is unique. Planning to do something different? No. Hitting the target? Yes. Putting the ball in the box? Yes. But that's every week, not because we are playing against this goalkeeper (Jak Alnwick). Now, that doesn't mean that we are going to have a free-kick in our half and we are going to put it in the air and smash the goalkeeper.
"I hope it's a normal game, no accidents. I would like the game to be played normally, of course to win it and Alnwick to play 90 minutes and that there are no issues and there are no misunderstandings. But football, I cannot predict the future at the moment. We are going to play the game normally, I hope it's a normal game. Now, are we going to have a shot? Yes. Are we going to have a few crosses? I hope he (Alnwick) is going to be under pressure. But it's more up to him (Alnwick) than to the rest. The rest is all talking.
"The derby is a special game so let us all enjoy it with dignity. Let the winner celebrate and let whoever loses hold their head high and look forward to the next time. Accept whatever it brings, enjoy it but without being disrespectful. I would ask everyone to go to the game with pride, to respect the occasion, but most of all to be safe."
Expert opinion:
Lawro:
"Newcastle are short of goalkeepers and have lost heavily in their last two games, but I don't think that will change Sunderland's approach. I see them doing what they have done all season away from home, which is to dig in and not be drawn out of position. I think the Black Cats' cautious approach will work, and they will leave with a point, although a sending off might change things and I am not sure whether all 22 players will last the 90 minutes.
"There have been no red cards in each of the last three Tyne-Wear derbies, but there were four dismissals in their previous three meetings, and I am expecting things to get a bit tasty again. I predict a 1-1 draw."
Coverage:
Tickets:
St James' Park is sold out for this eagerly anticipated fixture.
UK TV:
Sky Sports 1
Highlights on Match Of The Day 2 at 22:25 on BBC2
Overseas TV:
beIN Sports Mena 1/11 HD
Belarus 5
Benfica TV2
C+ Decale +HD
C+ Futbol (esp) +HD
C+ Sport (Poland) +HD
Diema
Digi Sport 1 (Hun/Svk) +HD
DIRECTV Caribbean / Latin America
Dolce Sport +HD
Fox Sports (Italy) +HD
Fox Sports (Malaysia)
Fox Sports 2 HD (Ned)
Fox Sports 4 (Australia)
Futbol 2 (Ukraine)
GO Sports 2 +HD
GOL Stadium
GOL T Espana
Idman TV
J Sports 4 (Japan)
K+1 (Vietnam)
LIG TV2 +HD
MTV Sport 1 (Finland)
NBC Sports Live (USA)
Nova Sport (Bulgaria) +HD
NTV Plus Futbol +HD
OTE Sport 1 +HD
PremierLeaguePass (NZ)
Sky Sport 1 (Germany) +HD
Sport 1 (Israel) HD
SportKlub 1 (Cro/Ser/Slo)
Sports+2 (Cyprus) HD
SportsMax 2
StarSports 4 (Asia) +HD2
SuperSport 1 HD Kosovo
SuperSport 3 (Za) +HD
SuperSport Maximo 1
TSN2 (Canada)
TV2 Sport Premium HD
TV3 Sport 2 (Den) +HD
Viaplay (Den/Swe)
Viasat Football (Swe) +HD
(All courtesy from nufc.com)
Streams:
Due to the TV coverage streams will be available on the usual sites.
Radio:
BBC Newcastle (North East only)
talkSPORT (UK & overseas)
A rivalry with roots in kings and coal:
Richard Stonehouse wrote:At 1.30 this afternoon, about one million people in Tyne and Wear and an additional million more from the North-East's diaspora, will watch and listen to what they consider to be the most important match of the season. Yet, to the rest of the watching world, the outcome will be observed with indifference.

The Tyne-Wear derby may be perceived by the uninitiated as parochial and unsophisticated, but like the world's greatest derbies it has a historical conflict as its bedrock. And if anything, as a basis for a rivalry, the Sunderland-Newcastle derby is the most legitimate conflict anywhere.

Some of the great derbies are based on issues that are trite and irrational. The historical class difference, for example, between the Milan clubs - Milan traditionally unionist and working-class, Inter upper-class and conservative - is now moot, given the chairmanship of the right-wing Silvio Berlusconi at Milan. Their historical reason for difference has dissipated, as it arguably has for Juventus-Torino, Real Madrid-Atletico, and Panathinaikos-Olympiakos.

The Celtic-Rangers rivalry has been written about extensively, and needs no elaboration. Other than to say that if football can act as a metaphor for international and jingoistic warfare, then the Old Firm is the most articulate. But the Tyne-Wear derby wins in its secular and concise regional conflict.

It does, after all, predate football by 226 years. It is a conflict that has divided two cities, 12 miles apart, for more than three centuries.

In the epoch before the 1600s, King Charles I had consistently awarded the East of England Coal Trade Rights (try to contain your excitement) to Newcastle's traders, which rendered the Wearside coal merchants redundant. People died because of it. Coal and ships were Sunderland's raison d'etre.

But when, in 1642, the English Civil War started, and Newcastle, with good reason, supported the Crown, Sunderland, because of the trading inequalities, sided with Cromwell's Parliamentarians, and the division began.

It became a conflict between Sunderland's socialist republicanism, against Newcastle's loyalist self-interest. A purposeful enmity if ever there was one. Unlike rivalries between other clubs, the differences between Newcastle and Sunderland date back to fighting based on the necessity to live and feed one's children, and benefit one's city.

The political differences between the two culminated with the battle of Boldon Hill. A loyalist army from Newcastle and County Durham gathered to fight an anti-monarchist Sunderland and Scottish army at a field equidistant between the two towns.

The joint Scottish and Sunderland army won - and Newcastle was colonised by the Scottish. It was subsequently used as a Republican military base for the rest of war.

And while this is a lucid basis for two cities hating each other, it has, like every other modern-day derby, developed profoundly irrational manifestations.

It has been noted that some Newcastle fans refuse to buy bacon, because of its 'red-and-white appearance' - the pinnacle, regardless of any jovial flippancy, of irrational behaviour. Likewise the past Mackem boycott of a particular breakfast cereal, because of the Newcastle-orientated marketing of its brand, is silly beyond words. However, these are benign occurrences.

In March 2000, more than 70 Sunderland and Newcastle hooligans took part in some of the worst football-related violence ever seen in Britain. It was not even a match day. What the police called 'usually respectable men and fathers' had decided to meet in mutual territory with their enemies, to fight with knives, bats and bricks.

Sunderland fans boarded a ferry towards Tyneside, found the awaiting 'army', and fought. One man was left permanently brain-damaged. Dozens of people were arrested, and years upon years of prison-time was sentenced.

The continuation of tension involves a new sense of injustice. For well over a decade, Sunderland's population has bemoaned that they have been paying their local taxes to finance both the Newcastle Metro and airport.

A perceived bias towards Tyneside in the regional and national media further compounds a feeling of inequality. It seems that history is repeating itself for the people of Sunderland, albeit in a less livelihood-threatening sort of way. Perhaps a more trivial, city-image sort of way.

But this makes little sense. Let's just hope that despite the hijacking of the game by the corporate class, and the working-class ostracising that comes with it, there remain terraces from which Mackems and Geordies can vent their invariably abusive opinions of each other without violence and civil war.

Why Mackems and Geordies?

The derivations are uncertain, but both have theories based in historical political allegiances. 'Geordie' because of Tyneside's staunch support of the Hanoverian King George II during the 1745 Jacobite Rebellion - 'Geordie' is a common diminutive of 'George'; and Mackem because of Wearside's accommodation of the Scottish 'Blue Mac' army during the civil war.

It is more likely, however, that the origins stem from aspects of the shipbuilding and coalmining industries. The Tyneside coalminers preferred George Stephenson's 'Geordie' safety lamp over the more widely used Humphry Davy lamp. And it has been accepted almost universally that Mackem is derived from the phrase Mak(e)'em and Tak(e)'em, coined by Tyneside shipbuilders to insult their counterparts on the River Wear, who would build the ships and have them taken away by the richer classes.
http://www.theguardian.com/football/200 ... tory.sport
" onclick="window.open(this.href);return false;
A reminder of happier days:
Since the last few derby games have been a bit miserable to say the least, here are some highlights of better derby games. Hopefully come 15:30 we'll be adding highlights to this list rather than recording our 4th successive derby defeat.