Match preview:
We come into the festive period on the back of two very good wins. We now have the opportunity to make the festivities in geordieland all the more joyful with three points against a club many of the Newcastle fan base dislike. Ruining or at least putting a damper on the Christmas of Villa fans would be a very good feeling indeed. If we win today and results go our way between now and the 7th of May we'll have not only the opportunity to leave their Christmas turkey tasting sour but we could also possibly have the honour of relegating them at Villa Park. Oh how I would love that to happen. I wonder what the banners at Villa Park would read that day?
Earlier in the season Villa disposed of 'Tactics Tim' for the well dressed Frenchmen Remi Garde. Remi's revival however has been pretty much non existent with the continuation of poor form. The midlands club have lost 10 of their last 12 Premier League matches and will be bottom of the Premier League table on Christmas day regardless of todays result. How far cut adrift they are is what todays game will determine. Best case scenario for Aston Villa is they win and Sunderland, Norwich and Swansea lose. Putting Villa 3 points behind 19th placed Sunderland and 5 points behind safety. Worst case scenario for Villa is they lose and their immediate relegation rivals all win putting them 11 points away from safety.
Our last two somewhat unexpected wins have left things looking a lot more rosier for us. Best case scenario for us position wise heading into Christmas is, if we win and Bournemouth lose we move up to 14th. If the bottom three lose as well as us winning we can tuck into to our turkey roasts safe in the knowledge we are 5 points above the relegation zone. Worst case scenario is of course a defeat. Which will drag us right back into the relegation battle.
Aston Villa haven't won on Tyneside in their last nine attempts. Since 2005 we've won six and drawn three of the nine meetings. That last Villa victory at St James' Park is one I'm sure none of you will have forgotten. We ended the game three goals and three men down after Kieron Dyer and Lee Bowyer had their infamous fight. Steven Taylor was also sent off for deliberate handball, giving a penalty away in the process and acting like he'd been shot in the chest by a sniper to try and cover up the handball.
Aston Villa have kept just two clean sheets this season and are winless in their last fifteen games. However they have taken the majority, four out of six, of their points this season from away games. A 1-0 win at Bournemouth on the opening day provided three of them, they haven't won since. The other away point came in their last away fixture, a 1-1 draw, also on the South coast but this time at Southampton.
If we win today it will be the first time this calendar year we've managed to win three league games in a row. It will also be the first time this calendar year we've recorded back to back home victories. Both absolutely shocking stats. 2015 has been a year to forget but hopefully we can end it on a high and kick start the festive celebrations with three wonderful points.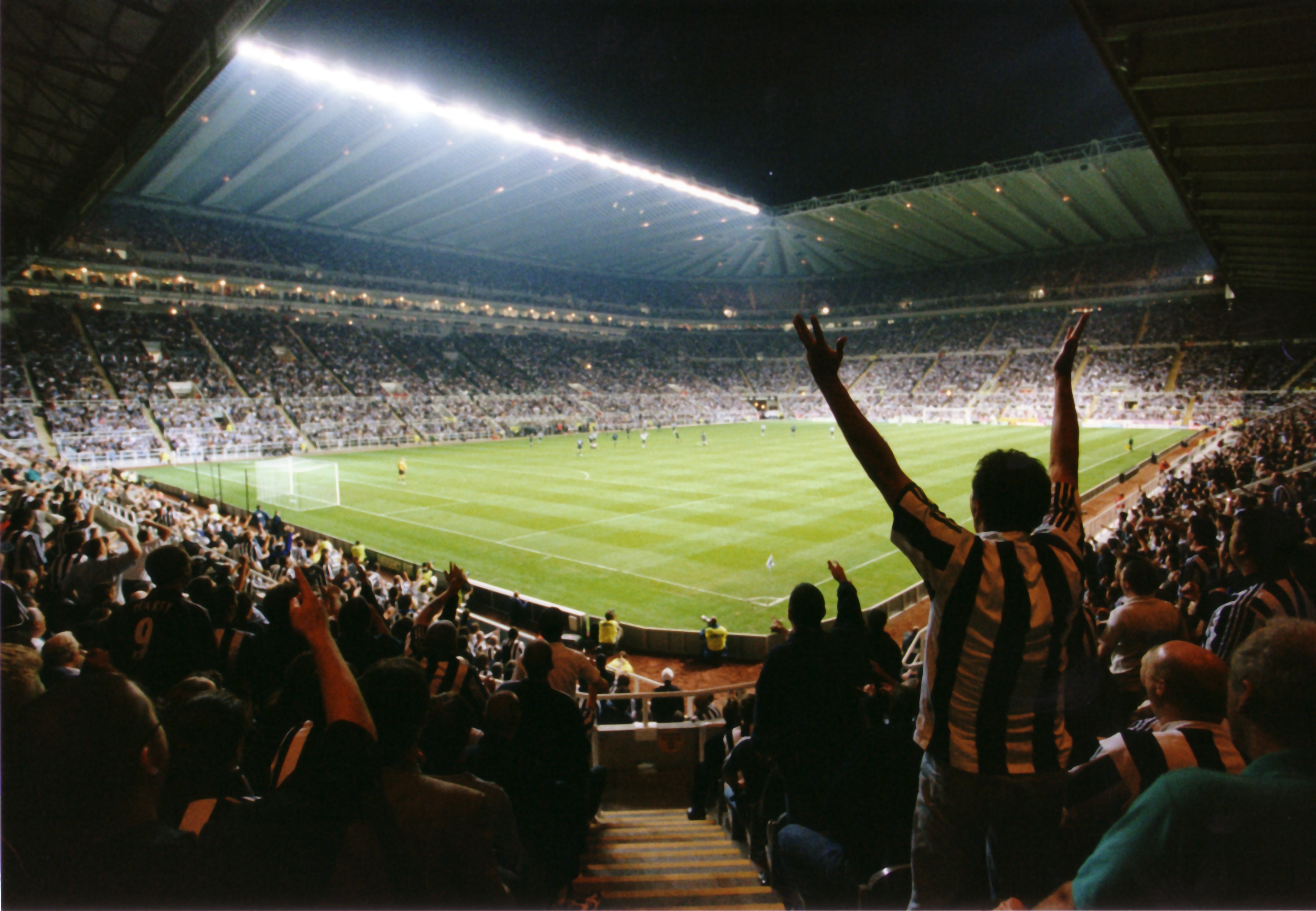 It's set up to be a cracker. Two fan bases where no love is lost. The importance of three points in this tight Premier League season. A chilly Tyneside evening. The beautiful St James' Park lit up by the floodlights. Festive cheer around Newcastle adding to the already positive feeling on the back of two victories. Games like this are what football is about. There is nothing better than an evening game at St James' Park. The atmosphere is always that bit better, maybe due to an extra few hours in the pub or maybe due to flashbacks to those Champions League nights under the St James' Park lights. A win would be the perfect Christmas present. The stage is set and hopefully Newcastle United will live up to the occasion.
Team news:
Newcastle United:
Massadio Haidara, Rolando Aarons, Curtis Good, Tim Krul, Gabriel Obertan, Steven Taylor, Michael Williamson, Emmanuel Rivière and Jamaal Lascelles will miss out due to injury. Cheick Tioté is expected to come back into the matchday squad having recovered from injury and trained all week.
Aston Villa:
Micah Richards, Jordan Amavi and Gary Gardner will miss out due to injury. José Ángel Crespo is doubtful.
Expected lineups and prediction:
Expected Newcastle United line up :
<elliot>
<janmaat> <mbemba> <coloccini>
<anita> <colback>
<sissoko> <perez> <wijnaldum>
<mitrovic>
McClaren tends to not like to alter winning sides though I suspect he will bring in the two players who scored the goals to win the last game for us. I can see Perez and Mitrovic starting in place of De Jong and Cisse. Otherwise I expect us to be unchanged.
Expected Aston Villa line up :
Guzan
Hutton Okore Lescott Bacuna
Vertout Sanchez Gueye
Gil Ayew Sinclair
WhoScored.com wrote:After a string of unconvincing displays Rudy Gestede may lose his place in the side, with Jordan Ayew hoping to move back into a central role. Carles Gil, Jack Grealish and Adama Traore could all be in line for a start, but club captain Gabby Agbonlahor doesn't seem to be in Garde's plans. The Villa boss will be hoping to have Micah Richards back available soon but he is set to miss out once again, with Ciaran Clark in contention at the back.
Prediction :
This seems like an easy game to predict. If I was a betting man and I didn't follow Newcastle as closely as I do, I'd have my life savings on a home win. All the pundits are predicting a home win. The bookies have us as heavy favourites. Looking at the past few games we've just beat Liverpool and Tottenham, two sides much much much better than Villa.
Aston Villa meanwhile have been awful all season. They will have the embarrassment of being bottom on Christmas day regardless of todays result and at the moment they don't even look like picking up another win this season. Everything is pointing to a comfortable Newcastle win. But then it would be such a Newcastle United thing to do, beating Liverpool and Spurs and then losing to Villa.
It's a different type of game to the last two. In those it was acceptable to soak up the pressure and hit on the counter. Today that isn't the case. 52,000 will be expecting us to control the game, have the lion's share of possession and put three or four goals past Villa in the process. A counter attacking style won't even have been considered for this game and our players tend to struggle when we aren't playing a counter attacking style. Hopefully McClaren and his team have finally cracked it and we'll comfortably win a game we are expected to comfortably win.
Part of me is saying 0-1 defeat. It would be just so Newcastle. I'm going to be optimistic though, hope we've turned a corner and hope the lads can make that xmas pudding taste all that sweeter. I'm going 4-0 to Newcastle. Wijnaldum X2, Perez and Mitrovic with the goals to put a smile on our faces heading into our festive celebrations.
Referee:
Martin Atkinson:
Born in Bradford but now based in Leeds the 44 year old West Riding County Football Association member is one of the most experienced officials in the Premier League. Since 2006 he has been a member of the FIFA referee list and has whistled a number of prestigious games including the 2014 League Cup final, the 2011 FA Cup final and the 2015 Europa League final.
This will be Atkinson's second Toon outing of the season. His only previous game featuring the magpies was the 2-2 with Chelsea at St James' Park. Martin Atkinson does have previous in delivering Christmas joy to geordies. On boxing day 2013, he played an influential role in Newcastle's 5-1 win over Stoke. Awarding two penalties to the black and whites, sending off two Stoke players and sending off the coatless Stoke gaffer Mark Hughes.
A word from the gaffers:
Steve McClaren:
Steve McClaren wrote:To be clear of the bottom three is very nice. But no we're not away from it. We're still fighting. If we don't fight, we'll be back in it. Everyone keeps telling me it would be a 'very Newcastle thing' to lose to Villa. The players have heard it too and I think we have got the message loud and clear. We will do everything to avoid that happening. But there is no doubt we are facing a very, very dangerous Villa team who have got individuals who are capable of winning football matches. Aston Villa is an opportunity and a challenge, one that we will probably get three or four times over the season, this is an opportunity to kick on. Can we take it? Are we ready to do it? Are we ready to win three games in the Premier League in a row, which is a huge, huge ask for any team?

This is a game that is totally different from the last two we have had. A different pressure. Aston Villa is a totally different game. You could say that we expected Liverpool and Spurs to have the ball so we weren't bothered. Tactically it could be a very interesting game for us. The key could be our front four. We have good, talented players here. They're just learning how to win games - and on Saturday I hope we will learn how to win a different type of match.

If being on TV adds an extra edge I don't mind. But it's like saying, 'do you prepare for a derby game differently to any other' – well why should you? Why should you play any differently in front of TV cameras. I don't believe in all that. Believe you me, when you step across that white line or when you're in that dugout, there's 52,000 people – you don't care who's watching you or whether there's TV cameras or not. There's enough pressure and there should be enough motivation there to think: 'I can't let these people down.' It is a funny stat, yeah. Coincidence maybe.

Half-time was a big half-time at Tottenham because it was kind of a crossroads and a case of: 'Which way do we go?' In the past we would say we might just be about to lose a game. But the players took a little bit of ownership in that. Rob Elliot was very vocal in the dressing room, everybody else followed on from that. Rob's turning into a leader. Absolutely. At Spurs at half-time he was terrific. And the rest followed on from that. He was saying: 'Look, let's not do that, this is what people expect us to do so let's do this,' and they responded to him. There were a couple of things said and the players were very buoyant and said let's make sure what has happened in the past doesn't happen now.
Rémi Garde:
[quote=""Rémi Garde"]I am totally focused on the next four games. I have all my energy on the short-term. I want to maintain Aston Villa in the Premier League - like all my players. We have four games coming up and we need at least six points minimum. I still believe that in these matches, from what I have seen earlier, my team can switch the way things are going at the moment. We are playing direct rivals over this festive period. I see this as an opportunity for us to be back in the race. To be fair, the players have trained well this week and are in a good place to make a very good game.
We have pressure to win this match. But it is the same on the other side. If Newcastle were not to win this game they would be back in a bad mood. The pressure is on everybody until you are sure to be safe. Newcastle have good players but, in terms of their collective game, it was not so good. Then they improved that. On top of that, they have players who can be very dangerous. They have talented players to be fair. They are improving. They have won the last two games. But we are improving. I am confident we can give them some problems.
Charles N'Zogbia could have given more to the team in the first two or three weeks after I came. Charles is not the worst person I have ever met. I am just here to try to pick up the players I feel are the most committed for this very difficult task we have. I am not saying Charles is a bad person. Sometimes it doesn't work between players and clubs, players and managers. Having a squad of high earners who are not in my plans is a situation I need to change. If you spend a lot of money on players who aren't playing it will be very bad news for the team and everyone at the football club. I'm blaming nobody. Every player has the possibility twice in the year to come to the manager and say, 'I don't feel you trust me, I don't feel well any more. For Gabby Agbonlahor and the rest of the team, when you change manager and the way of working, maybe suddenly you don't feel comfortable. I'm not saying that about Gabby especially. It will be the same for every player. I want to trust my players and for my players to trust me. For Gabby or another player, maybe they will not see what we're doing or where we're going, I don't know.[/quote]
Expert opinion:
Lawro:
Mark Lawrenson wrote:It looks like Aston Villa could be cut adrift completely shortly - things are that bad for them.
Newcastle have found some form after their own poor start and could make it three wins in a row on Saturday.
That is what I think will happen, although you never know with the Magpies because sometimes they just don't turn up. I predict Newcastle United 2-0 Aston Villa.
Lawro's opponent this week is also predicting a Toon win.
Justin Moorhouse:
Justin Moorhouse wrote:Aston Villa are done already. Newcastle to make it three wins in a row and get the nap too. I predict Newcastle United 5-0 Aston Villa
Elsewhere in the 'football expert' world Sky Sports pundit Paul Merson has offered his prediction.
Paul Merson:
Paul Merson wrote:I thought Villa were decent in the second half against Arsenal, but the game was over so early and they had nothing to lose by going forward. But I would have to say, if Newcastle win this, Villa should start preparing for next season in the Championship. It's a cup final for them. This is the big one for them. If they lose, it's goodnight. And I'm going with goodnight. Newcastle have their tails up and St James' Park will be getting right behind the players on Saturday night. I predict Newcastle United 2-0 Aston Villa.
Coverage:
Tickets:
Tickets remain available to the public at the time of writing and will remain on sale from the match day box office up until kick off. This game is unlikely to be a sell out.
UK TV:
Sky Sports 1 HD - 17:30 KO
Overseas TV:
6 Eren (Den) +HD
Astro SuperSport 1
Be Sport 1 (Belgium) +HD
beIN Sports ESPANA
Benfica TV2
Canal+ Futbol +HD
C+ Sport (France) +HD
C+ Sport 2 HD (Poland)
CTH Stadium 1 HD
Cytavision Sports +3 / HD
Diema Sport 2 HD
Digi Sport 1 (Hun/Svk)
DIRECTV Sports Arg/Caribbean/Deportes
ESPN Brazil
EuroSport 1 Romania
Fox Sports (Italy) +HD
Fox Sports 2 HD (Nederland)
Fox Sports 4 (Australia)
Futbol 2 (Ukraine)
GO Sports 2 +HD (Malta)
LIG TV3 +HD
mio Stadium 102 HD
MTV Sport 1 (Finland)
NBC Sports Live Extra (USA)
NTV Plus Futbol 1 +HD
O2 Sport (Cz)
OTE Sport 1 HD (Greece)
Play Sports HD1 (Belgium)
QQ Sports Live (China)
PremierLeaguePass (NZ)
Sky Mexico
SportKlub 1 (Croatia/Serbia/Slovenia)
SportsNet 1 (Ca)
Star Sports 1 Asia +HD
TV2 Sport Premium HD
TV3+ (Denmark) +HD
UZReport TV
ViaPlay (Den/Swe)
Visat Football (Sweden) +HD
(from nufc.com)
Radio:
talkSport
BBC Radio Newcastle. North East listeners only. Though if you are outside of the North East this link works
http://tunein.com/radio/BBC-Newcastle-954-s18219/
" onclick="window.open(this.href);return false;
Highlights:
Match Of The Day - 22:30 on BBC1
MERRY CHRISTMAS! HOWAY THE LADS!